Using Revision Control (aka the Revert Tool)
Revision Control is a great tool that keeps track of the last 10 edits made to any area on your site. In addition, Revision Control allows you to revert to a previous version of any content area if needed.


To use Revision Control:
1) Open the area you would like to revert or review the recent edits.
2) Click on the Revert Tool .
Voilà! Now you can look back in time: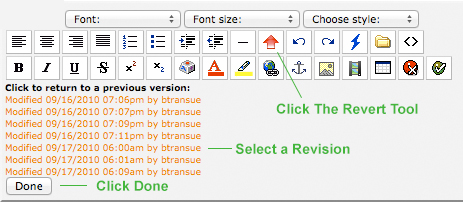 3) Click on any of the links to return to a previous version.
4) Click Done to Accept the Revision change
5) Click the Save icon to save your changes