Follow these instructions to password protect a page and assign a common user with priveleges to view the page.
Navigate to the page you wish to password protect in your browser
In the Settings pop-up window, Password protect the page by checking the box

Select the User Admin Tab at the top of the Settings window (if you do not see the tab, you probably don't have the proper permissions to edit this feature)

Click the Create New User Link


Fill in the fields.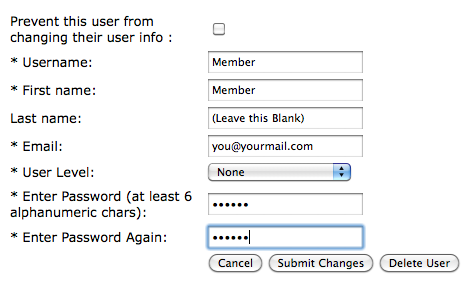 Select a username
Add the first name as Member (can be anything really, but member makes it easy)
Use your current email address (no one sees it, it's only for administrative reasons)
Important: Leave User Level set to None
Add a password (you will be giving this out along with the username)

Click the Submit Changes button
(
Do not click
the OK button in the lower right corner of the window. Clicking OK will save all of your changes and close the pop-up window)

Next click the Permissions Tab in the Settings window

Under Users, click on the drop down to the right of your new username and select Page Member

Now, Click the OK

button in the lower right corner of the pop-up window

That's it, now visitors will need the new username and password to view that particular page.