Next, take a moment to look through the available Blog Settings.

Click the Blog Settings Link

to get started

Blog Settings
There are a number of available settings, any of which can be changed at any time. the first section is for allowing comments. You can allow visitors to comment on your posts, have the system notify you when a comment is made, moderate the comments and set the email address of the moderator.

Allow Comments: This will allow responses from your readers to be posted in a comments area of the blog. If you include comments then the settings screen will change to include two more fields:
a. Notify When Comment Posted: Check this box if you want to be notified by email when a comment is posted to your blog.

b. Notify Email: Enter the email address you want the comment notification sent to. This should be your email address
The next section allows you to set the initial number of posts displayed on the main blog page, a setting for adding page numbers to your posts (show pagination) and an option to show select "favorites" on your main blog page.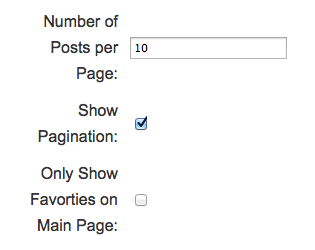 The Next section allows you to enter other searchable information about your posts including Author's name, Blog Category(s), Keywords, Post Date and the Date Format displayed on the post.

Show Author's name: This will display the name of the author of the blog.

Show Category: This will display the category you have chosen for each blog post.

Show Keywords: Keywords are used to search the blog pages so someone can find a topic they might be interested in.

Show Summary: This is a short summary of your blog. It will appear at the top of your post so that a potential reader can decide whether or not the subject is of interest to him.

Show Date: The date of the post will be displayed. If this is checked then another field will appear on the form.

Date Format: Chose the format of the displayed date from the drop down list.

Time Zone: This should be set to your time zone. This will prevent the web server's time zone to be used when comments are submitted and changes are made to your blog.






Click the Submit button

to save your changes and exit the window.
---