Click on the link to watch the tutorial:
Creating Links

You can create links from any image in your site.
To create a link from an image.
'
1 - Click on the image on your page to select it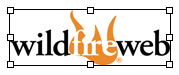 2 - Click the link tool

in the editor tool bar.3 - Enter the url (address) of the site or page you wish to link to in the "link address" box in the editor window.

4 - Click the ok button

Your image is now link