The order of your left hand navigation can easily be changed with just a few simple steps:
1.) First Log in to your website so that you can access all of the editable functions.
You will notice that your navigation bars will have "handles" that appear next to each bar while in edit mode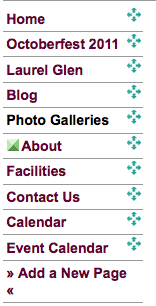 2.) place your mouse curser over the handle of the navigation the you wish to reorder, click and hold

the navigation bar you have chosen is now ready to be moved
3.) simply drag the navigation bar up or down while holding on to the handle to change the order. Let go of the handle to place the navigation bar in its new place.