Adding Widgets/Gadgets to Your Website
You can easily add a variety of widgets to your WildFireWeb website.
These include things such as the various "widgets" you'll find at Google Gadgets.
To add one of Google's gadgets you'll want to go here to Google's list of
gadgets for your website
.
Find the gadget you would like to add.
For example if you want to add the weather gadget to your website, on Google's page find that gadget, click the "add to your webpage" button below the thumbnail.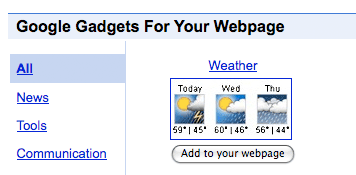 Each gadget will have various options that you can fill out, such as width and height, etc...
After you have customized your gadget, click get the code. You'll want to select and copy all the code.
After this you'll want to go to your WildFireWeb website, and go to the area you want to add your gadget or widget and edit it, by clicking the green square, or button that says edit.
Once the area you want to edit is open, make sure to click where in the editable area you want the gadget to show up (just as you would if you were going to start typing there), and then click on the movie button (the button the red arrow in the image below is pointing to) on your Tinder tool bar.

Once you've clicked on the movie tool, a text area will open up, along with the message "Movie or Widget: Paste Embed Code Here. Below is an example of what the area you paste the code looks like.

You'll want to paste your widget/gadget code in the text area and then click ok.
Once you've entered your embed code, and clicked ok, and go to preview your site you should see something like the example below (which uses one of Google's date and time gadgets).